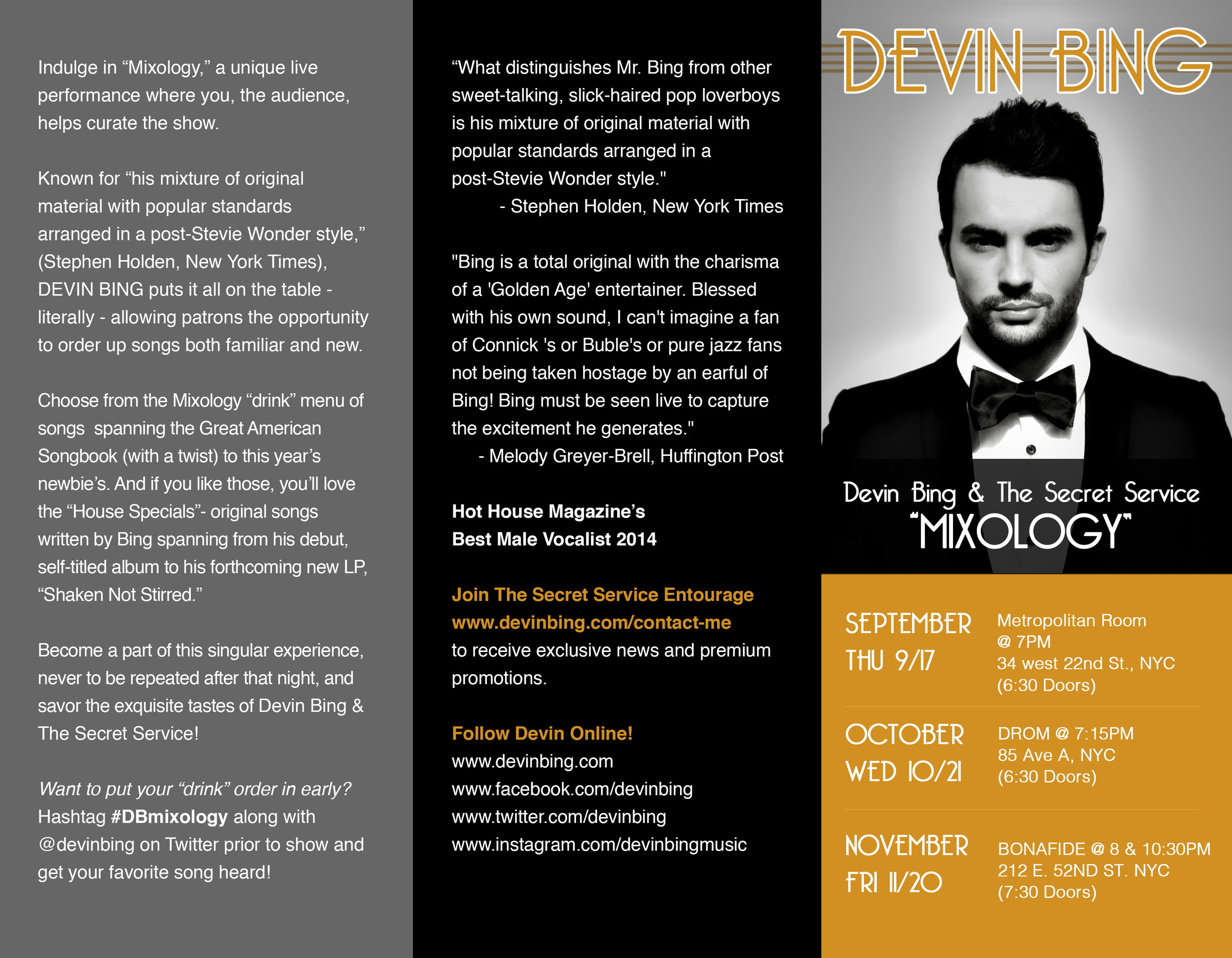 Indulge in "Mixology," a unique live performance where you, the audience, helps curate the show.
Known for "his mixture of original material with popular standards arranged in a post-Stevie Wonder style," (Stephen Holden, New York Times), DEVIN BING puts it all on the table - literally - allowing patrons the opportunity to order up songs both familiar and new.
Choose from the Mixology "drink" menu of songs  spanning the Great American Songbook (with a twist) to this year's newbie's. And if you like those, you'll love the "House Specials"- original songs written by Bing spanning from his debut, self-titled album to his forthcoming new LP, "Shaken Not Stirred."  
Become a part of this singular experience, never to be repeated after that night, and savor the exquisite tastes of -Devin Bing & The Secret Service!
Peruse the menu & taste test some songs: Mixology Menu
Want to put your "drink" order in early? Hashtag #DBmixology along with @devinbing on Twitter prior to show and get your favorite song heard!
FOR RESERVATIONS & ADVANCED TICKET SALES CLICK THE DATE:
Metropolitan Room (34 west 22nd St., NYC) - 9/17, @7:00pm (6:30 Doors)  
Drom NYC (85 Ave A, NYC) - 10/21, @7:00pm (6:30 Doors)
Bonafide (212 E. 52ND ST. NYC) - 11/20,  @8 & 10:30PM (7:30 Doors)
—————————————————————————-------------------------------------------------------------
Follow Devin Online:
Website: www.devinbing.com
Facebook: www.facebook.com/devinbing
Twitter: @DevinBing
Instagram: @devinbingmusic
YouTube: DevinBingMusic Channel