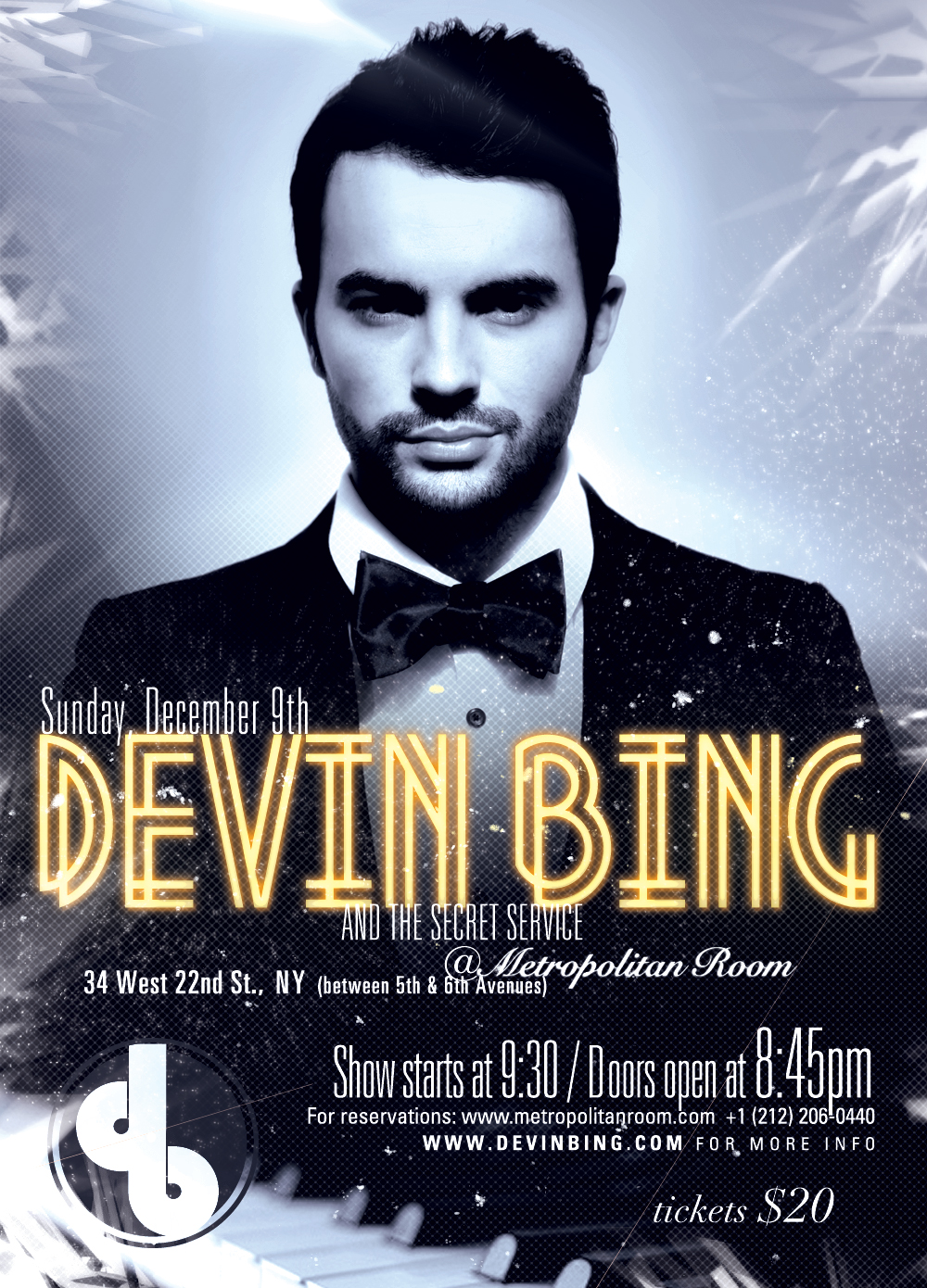 FOR IMMEDIATE RELEASE DEVIN BING & "THE SECRET SERVICE" LIVE AT NYC'S HIGHLY ACCLAIMED JAZZ CABARET CLUB METROPOLITAN ROOM
New York, NY, November 26, 2012 – Known as the "Home" for big name talents and rising stars as well as the # 1 Voted Jazz Cabaret Club by New York Magazine, The Metropolitan Room has invited Devin Bing & "The Secret Service" to join the long list of stellar artists that's graced it's stage.
After catching wind of Devin's electrifying performances throughout NYC 's Jazz club scene, Managing Partner/Booking Manager Bernie Furshpan discovered Devin online and was immediately blown away by him as a singer, musician and extraordinary talent. It was Devin's video rendition of "Misty," where he plays piano and sings, replicating a trumpet sound with his mouth, that solidified his respect and already growing intrigue for the artist. Furshpan explains the video as one that "takes a great deal of talent and a lot of balls."
Excited for the opportunity to play such a prestigious venue, Devin decided to shoot an exclusive video of him doing his coined Trumouth (Trumpet + Mouth) to another Classic Jazz Standard on the Metropolitan Room stage. Inspired by Chet Baker's recording, Devin arranged, and performed his live version of "My Funny Valentine."
Be prepared to hear the widest range of music Devin's ever done in one performance. From the Upper East, to the West Village, to the Lower East Side, Devin has performed all throughout NYC's hot spot clubs, bringing his unique ability to cater to each room and stage. But for those looking to truly discover him, it's at the Metropolitan Room where he will showcase his talents as a Front Man, Singer, Pianist, Keytarist, Trumouther, Arranger, Composer and over all Jazz & Soul Crooner.
Introducing brand new original songs, uniquely arranged covers/standards, Bing delivers them with a distinct flare of charisma and charm. The Metropolitan Room, on Sunday, December 12 9:30p, is where NYC's elite will be able to see this young, yet seasoned performer, thrill the Metropolitan Stage and captivate the eyes and ears of its enthusiastic audience.
Here's some valuable details that's a must know!
-----------------------------------------
Date: Sunday, December 9, 2012 Time: Doors open at 8:45pm/9:00pm Show
Location: Metropolitan Room 34 West 22nd st (btwn 5th & 6th ave.) New York, NY
Telephone: 212.206.0440
Reservation Link: http://metropolitanroom.com/show_right.cfm?id=84267&cart
------------------------------------------
Want to know more about Devin Bing??? You got it!
Touted as New York's Harry Connick Jr., Bing has performed with Grammy Award winners and nominees including Kevin Mahogany, Jon Secada and Kurt Elling.  Upon returning from his last coast to coast U.S. tour, opening for music icon and Rock & Roll Hall of Fame inductee Lloyd Price, Bing roused audiences with captivating performances and fresh original music.
For more information:
Listen to Devin Bing on YouTube: www.youtube.com/user/DevinBingMusic
Watch the official music video for Devin Bing's Single Summer Breeze:
http://www.youtube.com/watch?v=aPMBr36uK24&feature=related
Website: www.devinbing.com
Twitter: @DevinBing
Facebook: www.facebook.com/devinbing
EPK:  www.reverbnation.com/Devinbing
For media show press passes, information and interview requests, please contact:
Mgmt@DevinBing.com